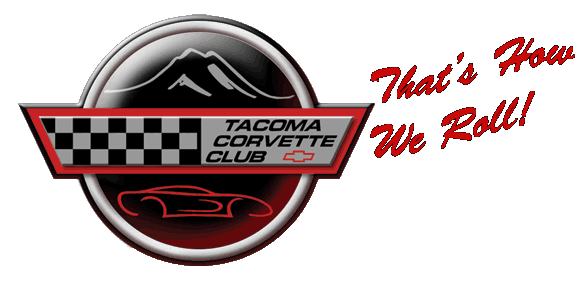 Welcome to the Tacoma Corvette Club
W
e hope you share with us the fun and enjoyment of driving America's finest road car. TCC participates in a variety of events and functions throughout the year that are chosen in the interest of our members. We invite you to consider becoming a member of our club, and find MORE FUN, EXCITEMENT AND INVOLVEMENT with your Corvette.
"Save the Wave"
Please Scroll Down To The Bottom of the Page For More Links To Our Web Site...
Come join us for the Tacoma Corvette Club's Holiday Christmas Party
Saturday, January 9, 2016

in the Rainier Room at the Truitt Building above Oddfella's Restaurant
102 West Main, Auburn, WA 98001 Get Directions...
$10.00/person
Register on-line for the Christmas Party...It's Fast and Easy

Mail your check (payable to TCC) to Tacoma Corvette Club, P.O. Box 91, Auburn, WA 98071

Print the Christmas Party Flyer for time and dinner menu...


Remember... No Meetings In December

Saturday
Dec. 5

Gather at the Lynch's former house on Valley Avenue at 1:00 PM. to prepare for staging for the Sumner leg of the parade. Parade is 3:30 - 4:00 PM. Following the Sumner parade, the cars will caravan to Puyallup to Light up Meridian Avenue beginning at 5:00 PM. All cars must be lighted and decorated.
Here's the Flyer with all the details...
After the parade will go to Mrs. Turner's Plantation Restaurant at 701 East Main Street, Puyallup...just a short distance away from the parade route.

Ed & Sandi Lynch
706 Valley Avenue
Sumner, WA 98390

Directions to the Lynch's


Still need to renew your 2016 Membership Dues? Here are 3 Options For You...
1. Use our Online Dues Renewal Form
2. Download the Dues Renewal Form & mail it in with your check

Whichever option you choose...please note that the deadline was November 15th and $10 Late Fee has been added.
Thank you for renewing your TCC Dues for 2016



Only TCC Events are posted to our Home Page. Please check out our Events Calendar for other corvette club events.
We will post more events as space allows...please check back for the latest updates.