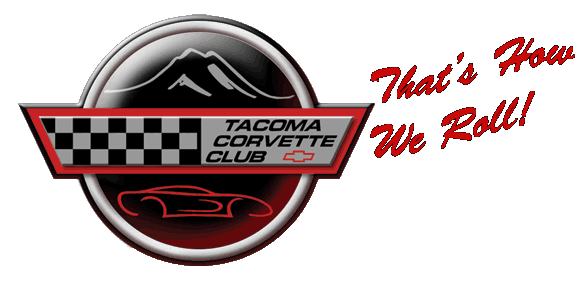 Welcome to the Tacoma Corvette Club
W
e hope you share with us the fun and enjoyment of driving America's finest road car. TCC participates in a variety of events and functions throughout the year that are chosen in the interest of our members. We invite you to consider becoming a member of our club, and find MORE FUN, EXCITEMENT AND INVOLVEMENT with your Corvette.
"Save the Wave"
Please Scroll Down To The Bottom of the Page For More Links To Our Web Site...



You are invited to the 3rd Annual Gamblin Chevrolet Corvette Show
Saturday, September 9, 2017


Come out and support our TCC sponsor - Gamblin Chevrolet

Download Your Informational Flyer & Registration Form Here...

There are several other corvette club events in AUGUST on the 2017 Events Calendar.
They are not TCC events and are not listed here on the home page.
Tuesday
Sept. 5
6:30 PM
E-Board Meeting
Los Cabos Mexican Restaurant
1316 Outlet Collection Way
Auburn, WA 98001
253-931-0015
Friday
Sept. 8
6:00 PM
Barbecue

7:00 PM
Meeting
Pre-Meeting Barbeque begins at 6:00 PM
(We'll have the hot dogs & hamburgers ready. Please bring a side dish to share...)

Membership Meeting at 7:00 PM
(Nominations Open for the E-Board)
(Begin $75.00 Collection of Yearly Dues through November 15th)
Download & Print the Dues Renewal Form... (Coming...)
Take me to the On-line Dues Renewal Form... (Coming...)
Get Directions

Saturday
Sept. 9

Opens at
9:00 AM
Lunch at Noon
Awards at
1:30 PM


Mark Your Calendars for the 3rd Annual Gamblin Chevrolet Corvette Show... Come out and support TCC's sponsor.



Download Your Forms
Click here to download:
Registration Form &
informational Flyer

Only the most current TCC Events are posted to our Home Page.

Please check out our Events Calendar for more events and other corvette club events too.
We will post more events as space allows...please check back for the latest updates.