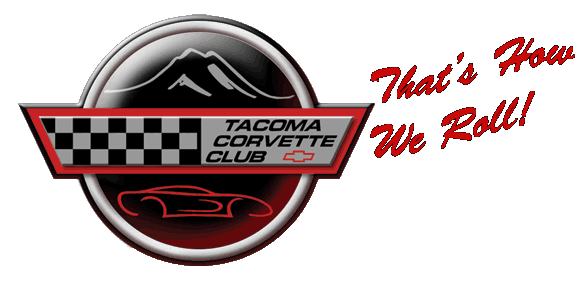 Welcome to the Tacoma Corvette Club
W
e hope you share with us the fun and enjoyment of driving America's finest road car. TCC participates in a variety of events and functions throughout the year that are chosen in the interest of our members. We invite you to consider becoming a member of our club, and find MORE FUN, EXCITEMENT AND INVOLVEMENT with your Corvette.
"Save the Wave"
Please Scroll Down To The Bottom of the Page For More Links To Our Web Site...



Take me to the Shadow of the Mountain Page for more details...


Click on this link for Online Registration & Clothing Orders...

Click here to download a "Print & Mail-in" Registration Form...
Fri. & Sat.
May 19 & 20


9:00 AM Friday
10:00 AM Saturday


Tacoma Corvette Club Garage Sale Fundraiser

. Come support TCC and get some great bargins too! Location: Ed & Sandi Lynch's former home at 706 Valley Avenue, Sumner.

Get Directions...

Tuesday
May 30

6:30 PM

(Please note earlier date & new location)
E-Board Meeting

Los Cabos Mexican Restaurant
1316 Outlet Collection Way
Auburn, WA 98001
253-931-0015

Friday
June 2


6:00 PM
Barbecue

7:00 PM
Meeting



(Please note earlier date due to Yakima Valley Vettes
Vette-a-Bration show)
Pre-Meeting Barbeque begins at 6:00 PM

(We'll have the hot dogs & hamburgers. Please bring a side dish to share...)

Membership Meeting at 7:00 PM

Saturday
June 3

Gather at
27th & Bridgeport Way at 9:00 AM


University Place Duck Daze Parade. Every year on the first Saturday in June the University Place community gets together for the annual Duck Daze celebration. The event began about 13 years ago when TCC member Dixie Harris and Terry Reim, founders of the University Place Farmers Market, felt that they needed an event to celebrate the end of the rainy season, as well as, the wonderful improvements to Bridgeport Way. The yellow duck was adopted as the symbol of the parade and is now a community mascot.

This is an important and fun event and one that everyone should plan to attend. We will be taking City Council members along for the ride.

TCC is the only corvette club invited to participate.

Feel free to decorate your vette with a duck theme.

Contact: Dixie Harris
zr1fun@comcast.net

Saturday
June 17

TCC Corvette Display at Destination Harley in Fife.
Come show-off your corvette for the visiting public. Harley riders love corvettes! We will have lots of room for your car. Show is from 10:00 AM - 3:00 PM. Stay as long as you like. Gather at the Harley dealership at 9:30 AM.
Destination Harley Davidson
2302 Pacific Hwy East
Tacoma, WA 98424
253-922-3700
Get Directions
Only the most current TCC Events are posted to our Home Page.

Please check out our Events Calendar for more events and other corvette club events too.
We will post more events as space allows...please check back for the latest updates.