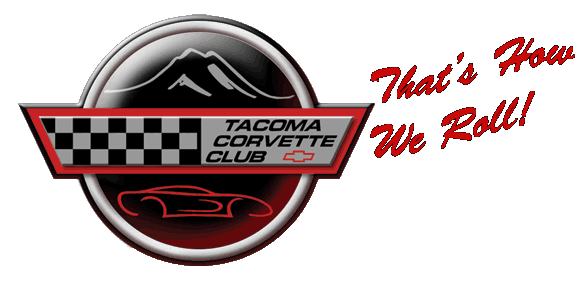 Welcome to the Tacoma Corvette Club
W
e hope you share with us the fun and enjoyment of driving America's finest road car. TCC participates in a variety of events and functions throughout the year that are chosen in the interest of our members. We invite you to consider becoming a member of our club, and find MORE FUN, EXCITEMENT AND INVOLVEMENT with your Corvette.
"Save the Wave"
Please Scroll Down To The Bottom of the Page For More Links To Our Web Site...




Click here to use our Online Registration & Clothing Order forms
Click to download a "Print & Mail-in" Registration form
Take me to the Shadow of the Mountain page for more information



Wednesday
May 11


6:30 PM


E-Board Meeting @ Corvettes of Auburn




Friday
May 13


6:00 PM
Barbecue

7:00 PM
Meeting

Pre-Meeting Barbeque begins at 6:00 PM

(We'll have the hot dogs & hamburgers ready. Please bring a side dish to share...)

Membership Meeting at 7:00 PM

Saturday
May 14


Meet the at the McDonalds at 702 Auburn Way (just south of Hwy 18) at 9:30 AM.
Departing at 10:00 AM


Please join fellow car enthusiasts for a tour of the Lemay car collection at Marymount (http://www.lemaymarymount.org/) in Spanaway. Museum entrance is $15.00; if we get 10+ in our group we all get a $5.00 discount. There is a car auction that day which we can observe after our guided tour. After Marymount we will drive a short distance for lunch.


Fri. & Sat.
May
20 & 21


9:00 AM Friday
10:00 AM Saturday


Tacoma Corvette Club Garage Sale Fundraiser

. Come support TCC and get some great bargins too! Location: Ed & Sandi Lynch's former home at 706 Valley Avenue, Sumner.

Get Directions...
Only the most curent TCC Events are posted to our Home Page.
Please check out our Events Calendar for more events and other corvette club events too.
We will post more events as space allows...please check back for the latest updates.