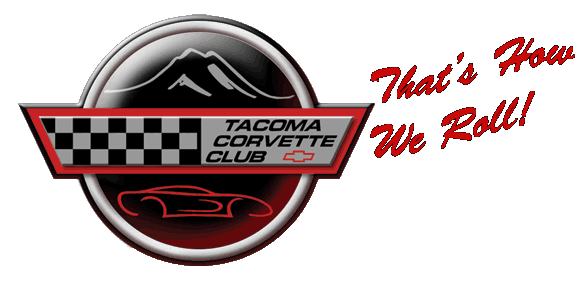 Welcome to the Tacoma Corvette Club
W
e hope you share with us the fun and enjoyment of driving America's finest road car. TCC participates in a variety of events and functions throughout the year that are chosen in the interest of our members. We invite you to consider becoming a member of our club, and find MORE FUN, EXCITEMENT AND INVOLVEMENT with your Corvette.
"Save the Wave"
Time to Renew Your Membership Dues for 2015 and here are 3 options for you...

1. Use our Online Dues Renewal Form

2. Download the Dues Renewal Form and mail it in with your check
3. Pick up a Dues Renewal Form at the next meeting and pay at the meeting
Whichever option you choose...please note that the deadline is November 15th.
Thank you for renewing your TCC Dues...



Saturday
Nov. 8


9:30 AM
Parade begins at 11:00 AM


Auburn Veteran's Day Parade. This is the largest parade west of the Mississippi. We have Cub Scouts to carry the TCC banner. Weather permitting please bring your parade flags. TCC umbrellas too. More Info Coming Soon...

RSVP Ed Lynch:
eflynch@comcast.net
253-278-1018 (call or text)
Wednesday
Nov. 12
6:30 PM
E-Board Meeting
Corvettes of Auburn
3401 C Street NE - Auburn, WA 98002
Get Directions
Friday
Nov. 14

7:00 PM
Membership Meeting
(Elections for the E-Board)
$75.00 Dues Collection Continues Through November 15th
Download the Dues Renewal Form... Take me to the On-line Dues Renewal Form...


Watch our Home Page and check out the Events Calendar for more upcoming events...
We will post more events as room becomes available...please check back often.